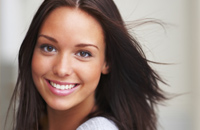 SONRIA DENTAL ART 240-242-3723
WELCOME

Sonria Dental Art specializes in beautifying smiles, maintaining your dental health, and helping you improve your appearance. Our experienced and friendly staff takes great pride in keeping your smile beautiful. Our promise to you is that the veneers, fillings, crowns, and bridges we create will look as good as or better than the teeth nature gave you. And to make sure we keep that promise, the products we recommend and use are the highest quality and incredibly durable. You can trust your smile to us.



BIENVENIDOS

Sonria Dental Art se especializa en embellecer sonrisas. manteniendo la salud dental y ayudando a mejorar la apariencia dental. Nuestro equipo esta conformado con experimentados Dentistas, higienistas y tecnicos dentales. En SONRIA DENTAL ART nos comprometemos a utilizar productos de la mejor calidad y larga durabilidad, para fabricar Coronas dentales, Puentes fijos, placas dentales, restaurar implantes dentales, entre otros.Usted puede confiarnos sus sonrisa.
We participate
with most PPO dental insurance; Aetna,Ameritas, Assurant, Allegeant, Blue Cross Blue Shield, care First, Cigna, Delta Dental ,Dente Max, Denta Quest PPO, Metlife,Principal, United Concordia, and other ones.
Maryland State adult, pregnant and Childrens state INSURANCE; Healthy Smiles, Denta Quest Medicaid, Amerigroup, Medstart, Maryland Physician care,Kaiser, Priority Partners,

Aceptamos todos los seguros del estado para Adultos, ninos y mujeres en embarazo
Aceptamos la mayoria de seguros PPO dentales
Y si no tienes seguro tambien eres bienvenido

!
Please Contact Us:
2416 Blueridge Ave suite 208 Silver Spring MD 20902
PHONE: (240) 242 3723
BEFORE
2416 Blueridge Ave Ste 208
Silver Spring, MD 20902
(240) 242-3723